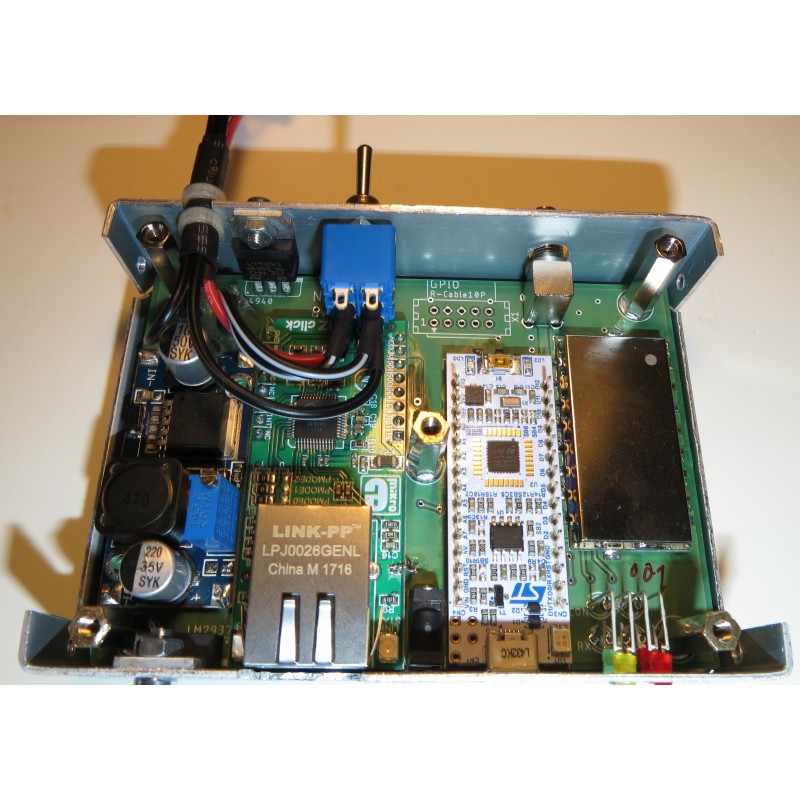  
NPR (New Packet Radio) Modem v03 by F4HDK - Kit
Description from the official New Packet Radio project page
https://hackaday.io/project/164092-npr-new-packet-radio
"NPR (New Packet Radio) is a custom radio protocol, designed to transport bidirectional IP trafic over 430MHz radio links (ham radio). This protocol is optimized for "point to multipoint" topology, with the help of managed-TDMA.
Bitrate is up to 500kbps (net, effective bitrate).
The radio modem is cheap (~80$) and home-made, with a 433MHz ISM module inside. The modem is connected locally with Ethernet, therefore no specific software is needed on PC.
The modem is easy to build and reproduce.
You can add a DMR radio amplifier in order to achieve 20W radio power or more.
The main usage is an extension of HSMM - Hamnet - AREDN networks.
All the project is open-source : hardware, software, protocol specification."
Kit description
This kit contains all items from the official NPR modem v03 BOM (or matching alternatives), plus all necessary screws and nuts.
Note: The aluminum enclosure has no cutouts. You'll have to do the cutouts according to the official documentation on your own.
Warning: To assemble this kit, SMD soldering skills are required (part size 0805)!
Note: The required modifications of the STM Nucleo Board (see assembly guide v1.3 page 5) are already performed, as they require advanced soldering skills. Therefore, the original packaging of the STM Nucleo Board has been opened.
All three shunts are removed ("Normal" configuration). In order to operate in "Remote" configuration, shunt SB9 has to be closed again by the customer!
Assembly & Usage Documentation
The documentation is hosted on the project homepage.
The assembly of this kit is described in the file NPR_modem_assembly_guide_v1.3.pdf.
Support
Support and direct contact to the developer of the New Packet Radio can be found in the project chat.
Shipping
Shipping of this item is only possible to countries of the EU and EFTA (European Free Trade Association) region. Currently, shipping to other countries is not possible.